AsiaSoft, with a large team of professional engineers major in technology to serve customers in the three regions of the country, has confirmed its position in the market. AsiaSoft always commits to provide customers with excellent services and the best solutions with reasonable investment costs for all companies in Vietnam.
Some of AsiaSoft main product lines: Simba Accounting software, Asia Standard accounting software, Asia Enterprise business management software etc.
Simba Accounting - a software packaged from AsiaSoft, is designed for small and medium businesses with the goal of helping businesses save costs, reduce unnecessary procedures, simplify and streamlining the accounting process.
Asia Standard is accounting management software customized for specific management requirements of each company. Asia Standard has been developed and perfected continuously since 2001.
Asia Enterprise is general management software to help companies manage their core operational processes in a unified way, such as: accounting, financial analysis, purchasing management, inventory management, planning and production management, logistics management, customer relationship management, etc.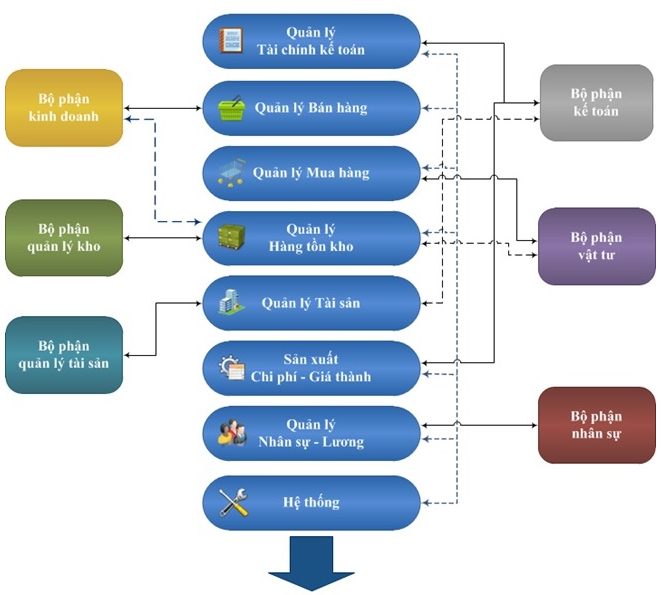 The overall objective of this system is to ensure that resources of a company, such as manpower, materials, equipment and fund are always available as necessary by using planning tools and plan accordingly. It allows companies to provide and synthesize data from many different separate activities in order to achieve the above objectives. Asia Enterprise is designed to be utilized and applied for various types and sizes of businesses with different scales and models by changing the preset parameters to match reality needs.
The general management software Asia Enterprise is awarded the fifth time with the Sao Khue award as an excellent software in the field of business accounting and finance. Asia Enterprise is researched and developed since 2005 by AsiaSoft. With modern technology, flexible customization capability, tools to control and synthesize data closely, Asia Enterprise has been the first choice of a lot of customers in the country.
After 15 years of construction and development, AsiaSoft has provided business management solutions for more than 5,000 clients nationwide. Amongst them, there are many prestigious and large scale companies dealing in diverse business fields such as: Vietnam Paper Corporation, Apatite Vietnam Corporation, Viglacera Ha Long JSC, Hapaco Group, C & T Group, Bac Giang garment corporation, Sun Feeds Joint Stock Company, Binh Nguyen pharmaceutical company etc. and some government organizations as well as NGOs: TYM microfinance institution, First project, Deposit Insurance of Vietnam etc. Also, AsiaSoft achieved a number of achievements, such as:
- Gold Medal "Information Technology Product of 2001"
- Gold Medal "New Product New technology" of 2002
- Gold Medal "Information Technology Product of 2006"
- Gold Medal "Quality product - Prestige brand of 2006"
- Gold Medal "Information Technology - Communication Product of 2007"
- Gold Medal "Quality product - Prestige brand of 2007"
- Acknowledgment certification of Ho Chi Minh city People's Committee 2007.
- Sao Khue Awards in 2007, 2008, 2012, 2014, and 2016.
AsiaSoft regularly organizes extracurricular activities and cultural exchanges so company members get a chance to interact and connect with each other. Programs such as March 8 International Women's Day, spring tours, football exhibition matches etc. are indispensable spiritual gifts to every member of AsiaSoft. AsiaSoft tries hard to not be just a professional workplace but also a place for members to bond and unite as a family.
With the motto "For customer's success" and driven by "professional quality - excellent service", AsiaSoft always strives to build brand reputation and gain customers' trust in each product and service provided by AsiaSoft.
The trust and support of our customers is a source of great encouragement for the development of AsiaSoft. AsiaSoft will constantly perfect the services and products to deserve with this trust.