01 May, 2019
Super boom: "Dual offer: 30% off and Buy 1 get 1 free"
Start a brilliant summer with special offers only for businesses, agents, and stores that have not used "Accounting Software". At Asiasoft, there is a super explosive program: Double promotion, Buy 1 get 1 free for all businesses and customers.
From May 1 to May 31, 2019, when customers want to buy SIMBA 171 ACCOUNTING SOFTWARE, they will receive a 30% discount and be "gifted" with 300 e-invoices equivalent to 300 paper invoices.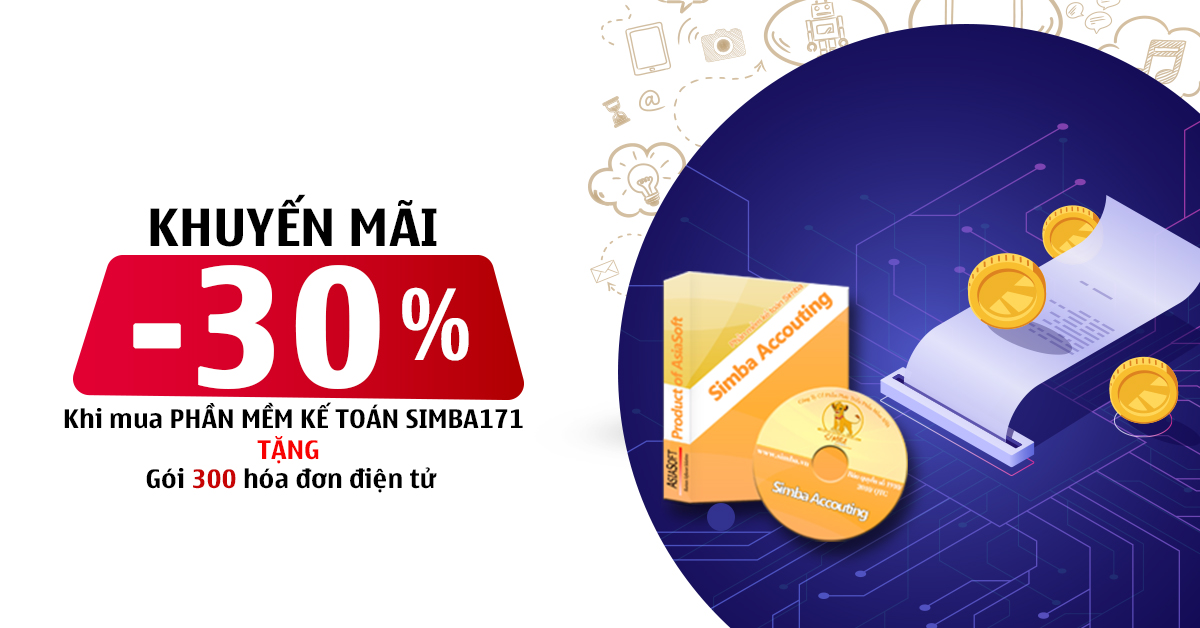 Conditions to apply: Register to use "Accounting Software Simba 171"
– Applicable objects: Customers who buy new accounting software Simba 171
– Scope of application: Nationwide
– Time: May 1st – May 31st, 2019.
From only 3,500,000 VND, you already own the extremely convenient Accounting Software + Electronic Invoice Combo package at Asiasoft:
❋Using Simba accounting software, you will own outstanding utilities:
– Manage accounting situation anytime, anywhere.
– Simple, convenient, easy to use, compact accounting work.
– Directly integrating e-banking, connecting directly with the General Department of Taxation to save time and cost of tax declaration and banking transactions
❋Not only that, you also get 300 free Asiasoft A- Invoice E-Invoices:
– Store invoice data up to 10 years.
– Issue and send information to customers via Email, SMS in less than 5 minutes.
– Save business costs up to 75%.
– SAFE – FAST – SAVE, simple, easy to use.
– Security according to international standards.
Refer to the product details here:  http://simba.vn//
Register for trial: http://simba.vn/simba-4b.html
—————-
For detailed support about the gift program, please contact:
1. Hanoi Office: No. 6, Vu Ngoc Phan, Dong Da, Hanoi
Hotline: 0936.348.626
2. Da Nang office: 721 Dien Bien Phu, Thanh Khe district, Da Nang.
Hotline: 0935.072.299 VND
3. HCM Office: 730/126 Le Duc Tho, Ward 15, Go Vap District, Ho Chi Minh.
Hotline: 0909.605.913
Mail: Info@asiasoft.com.vn