Asia Enterprise is a software system that helps enterprises manage their core operations in a uniform process, from accounting, financial analysis, purchase management, inventory management, production planning and management, logistic management, customer relationship management, etc
Editing software to meet enterprises' needs: Asia Enterprise is a software system that helps enterprises manage their core operations in a uniform process, from accounting, financial analysis, purchase management, inventory management, production planning and management, logistic management, customer relationship management, etc.
Asia Enterprise is constructed and developed with latest tools and programmed by NET language and SQL Server database that allow to access and exploit data via the Internet. It supports Unicode and allows inputting many languages in a single data flow at the same time.
Asia Enterprise is a software system that helps enterprises manage their core operations in a uniform process, from accounting, financial analysis, purchase management, inventory management, production planning and management, logistic management, customer relationship management, etc.
Overall objectives of this system are: making sure that integrated resources of the enterprises such as human, materials, machines, and money, are available with sufficient amount when needed by using planning and scheduling tools. It allows enterprises to supply and summarize data of separate operations to achieve above-mentioned objectives.
The system includes many sub-systems, each of which can have functions independently, but they can be connected to each other and share information with other sub-systems to build up a stronger system.
Asia Enterprise is designed to implement and apply to a variety of enterprise models and scales, which requires changing parameters only to adapt to actual situations.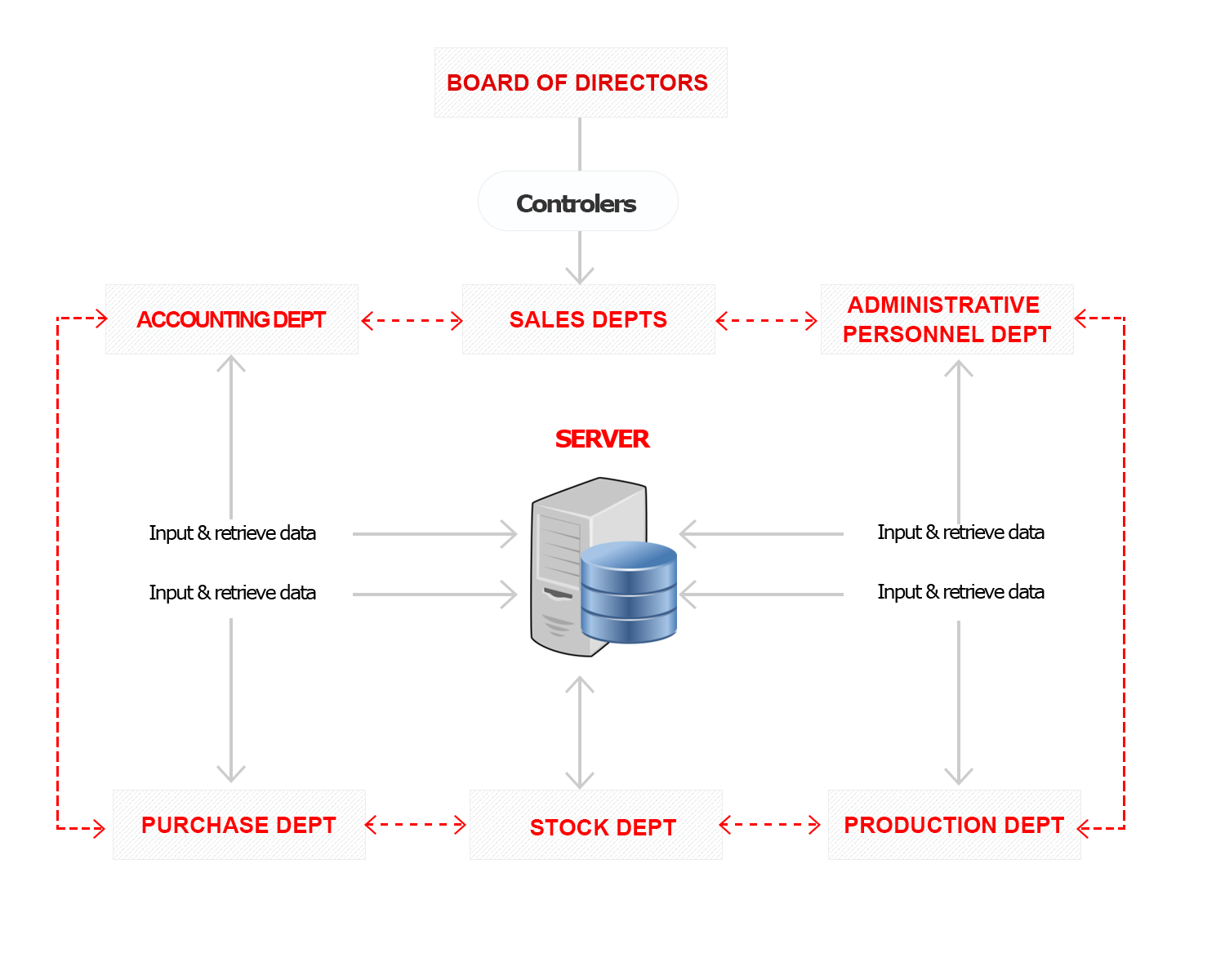 (Data connection model among departments in the company)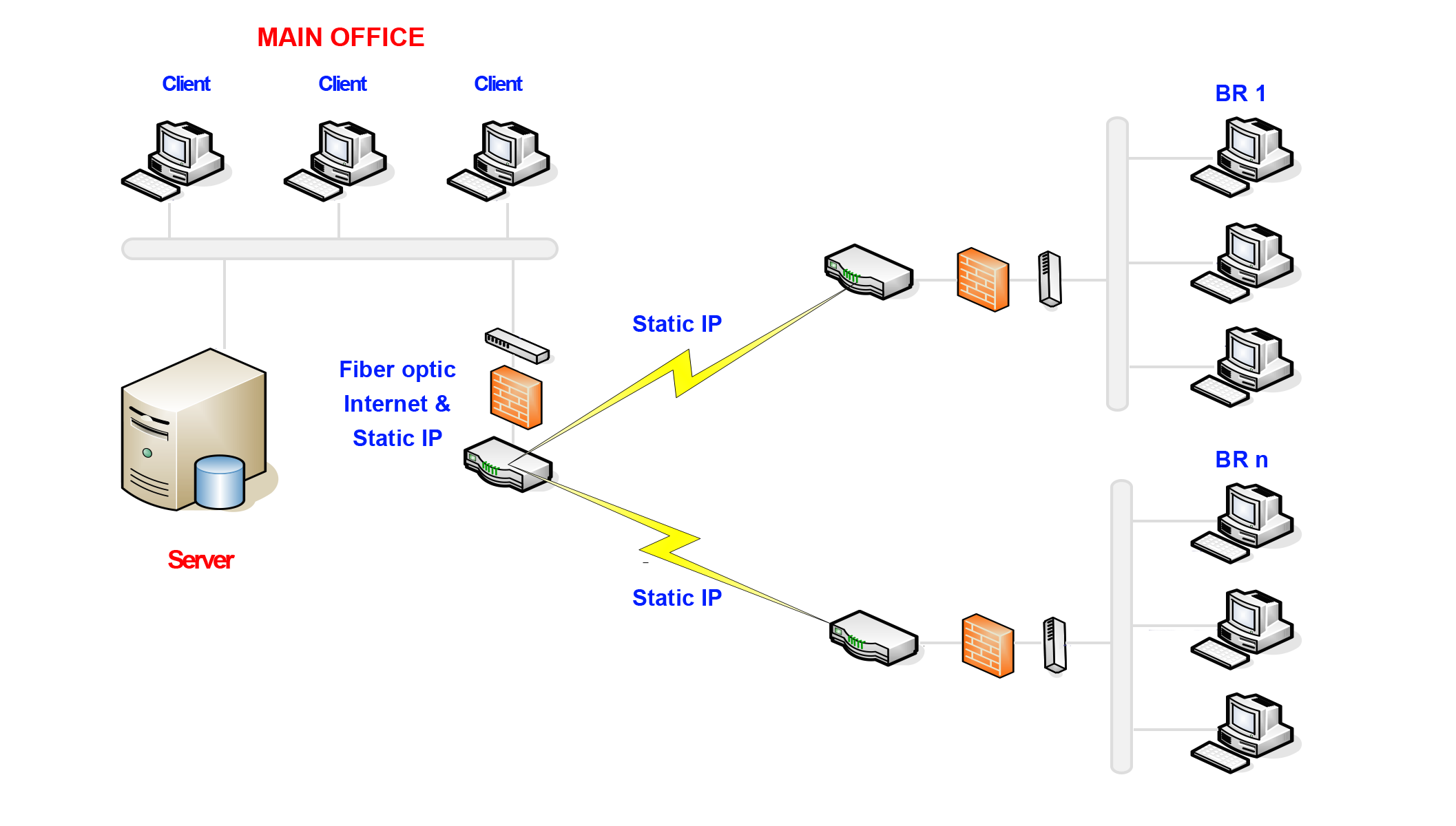 (Working and online data management model of different subsidiaries)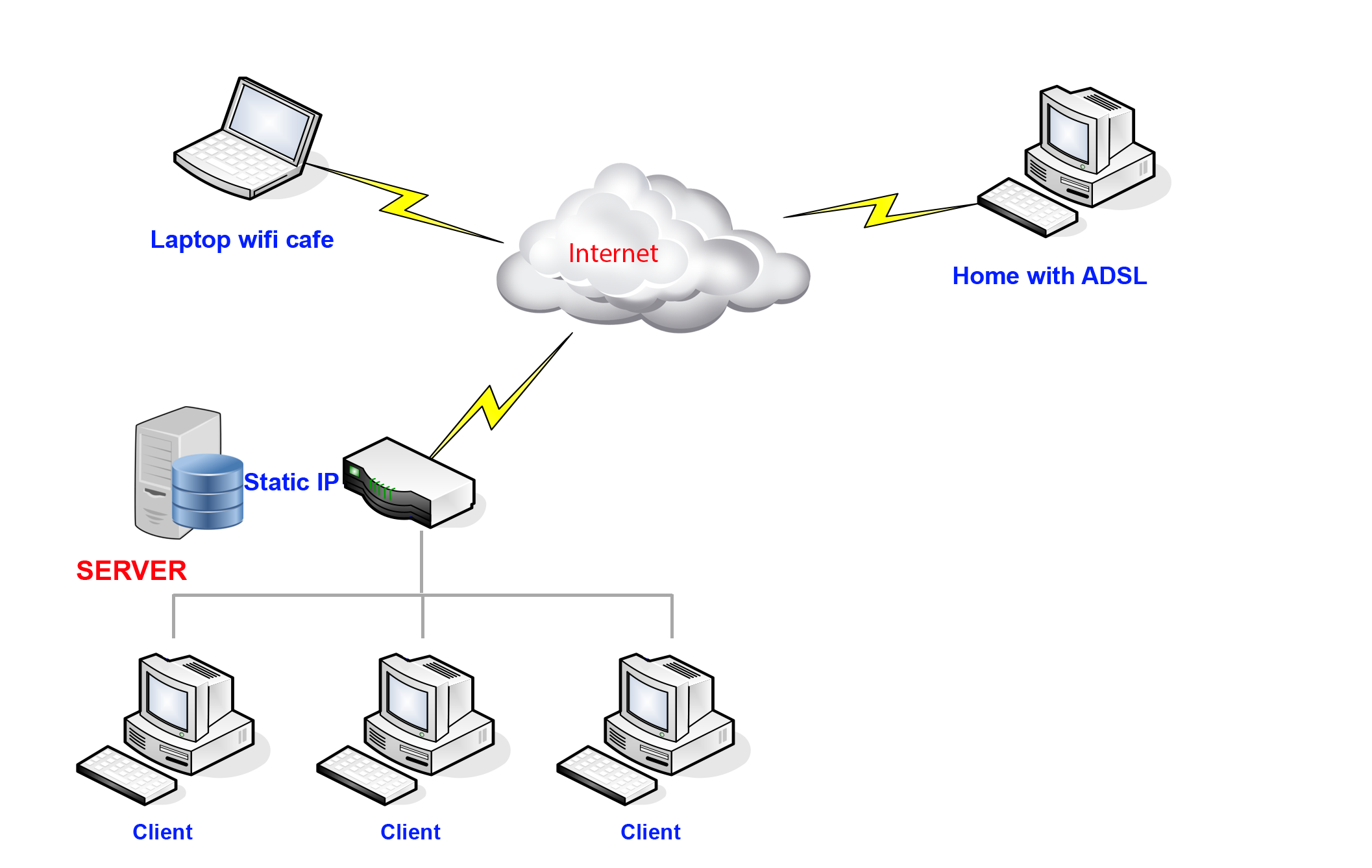 (Accessing and viewing reports models from outside the office)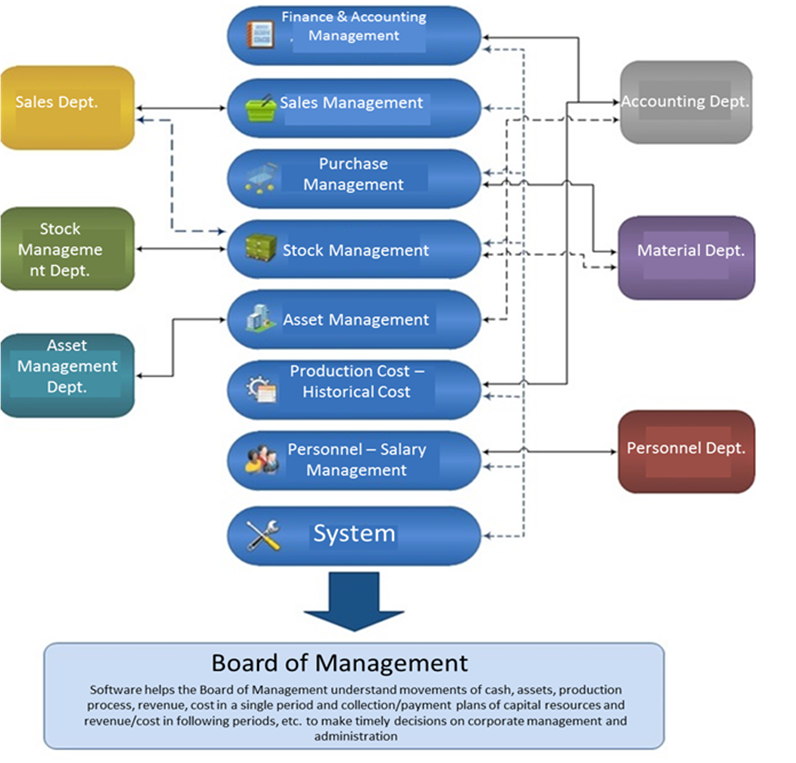 Connection diagram of Asia Enterprise sub-systems
Main features and changes from last version
Homepage: Homepage allows the user to configure the declaration of frequently-used functions, display main information on financial condition, production, and business of the unit, and set reminders and schedules for each user.
Centralized or decentralized model: Manage data of many companies, allow updating and exploiting data by company, summarize companies in a single system. Manage multiple databases. Allow to data mining and update via the Internet. Make sure the safety, security, and high-speed.
Allow to handle multiple windows for inputting data and reporting in tabs; easy to arrange and move between invoice-reporting windows for data comparison.
Support enterprises create, issue, print, and use invoices themselves in accordance with Decree No. 51/2010/ND-CP.
Subsystem data is automatically entered in the general journal using declared parameters or through the review/control of user.
Read data from Excel files into the system and export data to Excel files.
Drill-down feature allows retrieving, viewing, and editing relevant reports from the summary report.
Trace feature: trace all documents (records) by information before editing or deleting and the user that performed such actions.
Manage the update and processing of documents: subject to operation of the sub-system and documents, each document will be processed in an appropriate manner by following steps: preparation, execution, approval, pending, carry-over, etc.
Manage planned budget of subjects: accounts, divisions, expense code, product code, construction work code.
Allow to fix rows and columns and create conditions to automatically filter and arrange reporting results.
Support multiple cost allocation methods in computing historical costs of the products
System
Decentralize management system, connect and monitor all operations of sub-systems in Asia Enterprise. Make sure that the login of the user and operations of each function are controlled and stored.
Main functions

Manage and decentralize user rights to access functions, perform an action on folders or documents (input/edit/delete)
Declare more or less dependent/independent accounting units or summarize the whole industry in form of Corporation model.
Declare more or less accounting units in the entity (Company, branch)
Declare optional parameters to be suitable to characteristics of each company.
To check the uniformity and accuracy of data.
Store data periodically.
Lock or open monthly data (do not allow editing / modifying data).
Select working years (year of the relevant data)
Select working entity (entity/division of the relevant data)
How to Use.

General Accounting
General Accounting Subsystem is the foundation of accounting system and is flexibly designed to meet the requirements of the companies with different scales and models. It provides multiple functions for necessary planning and processing procedures. General accounting subsystem integrates all subsystems of the system and provides full and accurate financial data.
Main functions
Update general accounting journals; automatic update and carry-over.
Create and manage the list of accounts, length of account code must be no longer than 20 characters.
Account status: Used/Non-Used, allows managing and printing data of non-used accounts again.
Manage and distribute accounting periods and perform period-end finalization.
Declare the procedures and move data from sub-systems to general journal.
Track from general journal to original documents
Lock data and do not allow users to change when data is entered in the general journal
Declare limit/budget plan for each account and entity. Automatically create planned figures based on actual figures of accounting period selected by the user.
Allow to move/cancel the movement of entries from other sub-systems to the general journal.
Cash and Bank Deposit

Cash and Bank Deposit Sub-system is used to execute and manage the collection, payment, transfer, etc. related to cash, bank deposits, or loans in domestic and foreign currencies to introduce reports on cash funds, deposits, and loans.
Main functions
This sub-system is used to update payment/collection documents by customer, contract, sales invoice, and expense item from cash and bank funds.
Allow to print unique forms of Collection Order, Payment Order, Standing Order from the program and the user can edit these forms. There are many forms of Standing Order available in the system in accordance with regulations of banks.
The system allows collecting from or paying to multiple customers/suppliers in a single collection or payment document.
It allows monitoring the advance and making advance payment.
Update, monitor, and manage loan deeds, loans from individuals/institutions. Charge interest by deed and loan.
Sales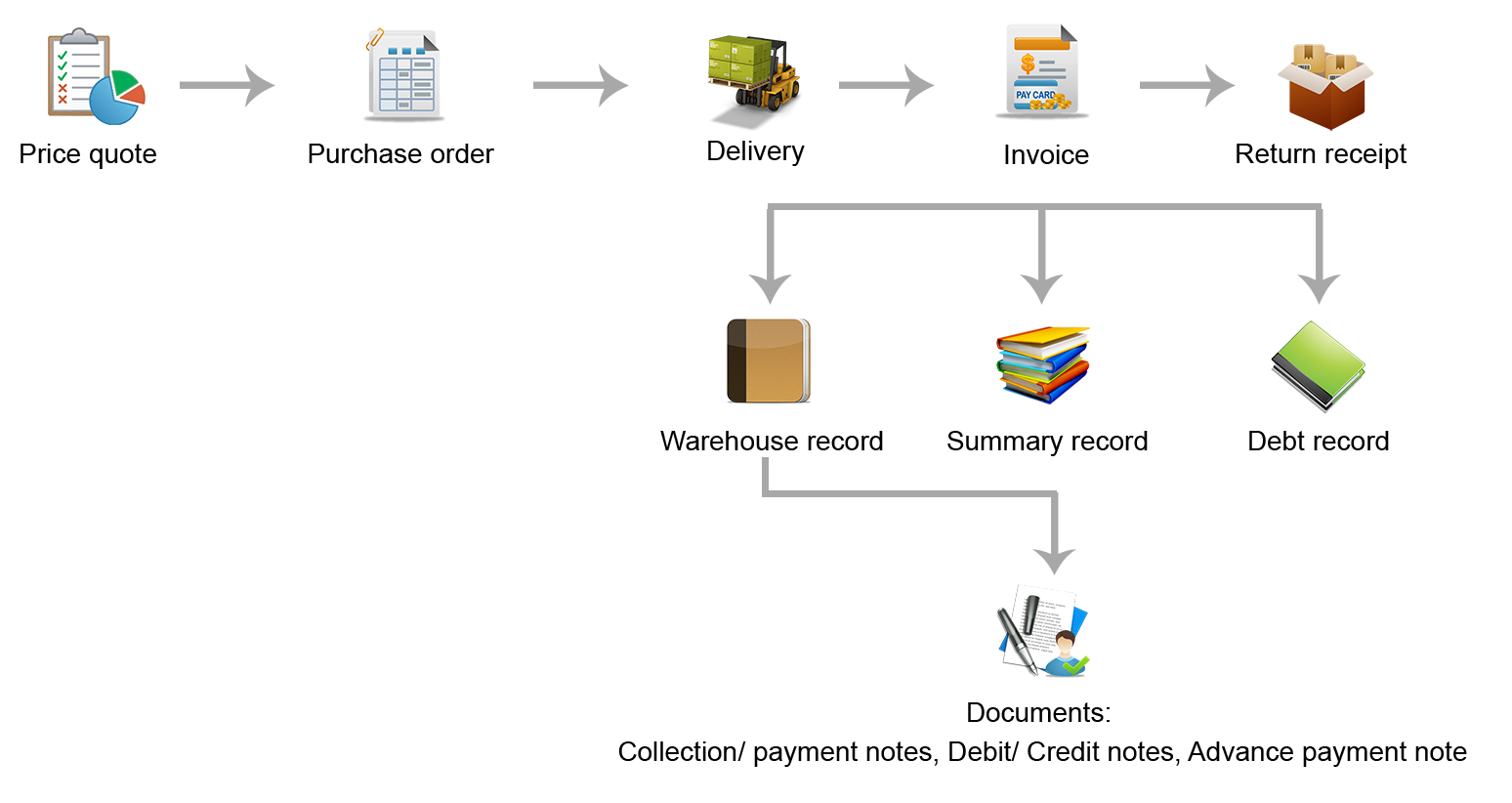 Sales Subsystem manages all operations of sales process, from order receipt, processing, acceptance, collection, delivery until invoice issuance.
The user can re-define and determine steps of the process to conform to his/her organization.
Main functions

Update Purchase Orders, Delivery Orders, Invoices, Sale Returns
Manage customers, delivery addresses of customers
Track carriers, transport vehicles
Monitor transportation routes, distance, and freight cost
Monitor and compute discounts by multiple methods, allow to declare up to 15 discount levels per product
Monitor promotional items and discount returns
Monitor sales by division and sales personnel
Monitor the execution of order/issuance of products/invoices by contract
Monitor incurred costs such as loading/unloading/packing costs, etc.
Monitor due date of invoice, automatically charge overdue interest, compute financial discount on early payment
Purchase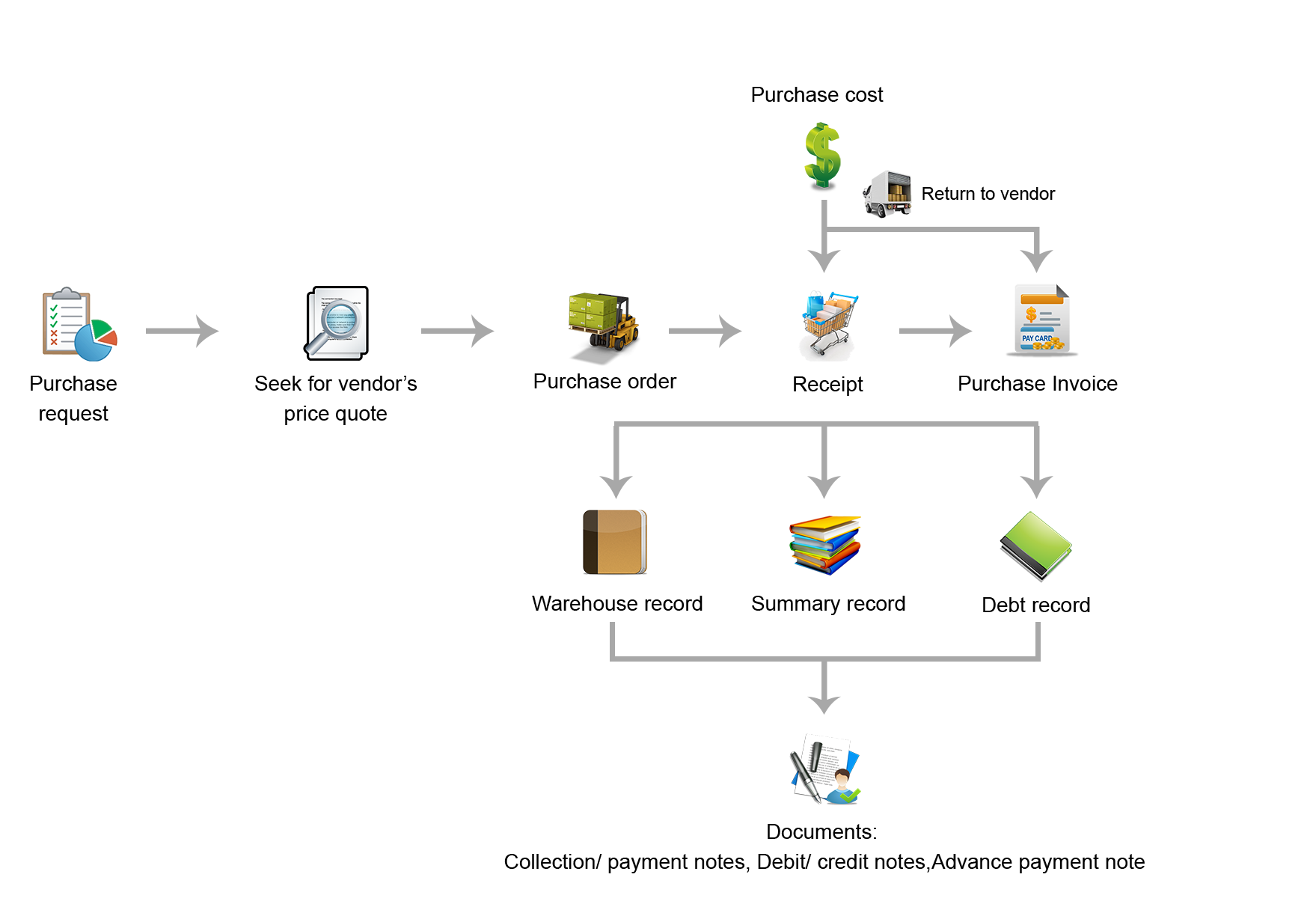 Purchase subsystem manages all operations of sales process, from preparing a purchase request, placing an order, selecting a vendor, receiving products to making payment
Main functions

Update purchase requests, purchase orders, product receipt, and product return
Mange the vendors
Automatically create purchase requests based on actual stock and rated stock
Automatically update payments and deliveries by purchase order
Link one purchase order to multiple receipt notes and one receipt note to multiple purchase orders
Stock
Mange details of stock items, manage details such as sizes, technical specifications, and locations in the warehouse. Update and trace warehouse receipt, delivery, transfer, relocation, modification, and inventory processes. Evaluate value of inventories using different methods. Provide warehouse managers with reports on receipt, export, stock.
Main functions

Update warehouse receipt, delivery, transfer, relocation, modification, and evaluation processes.
Create tables and update inventory data.
Manage products to be monitored or not in the stock.
Declare warehouse lists, product categories, product items, etc.
Manage purchase units, sales units, stock units, and other units without limitation.
Monitor the products by barcode
Monitor the inventory by location and lot.
Compute value of inventories using Monthly Average, Moving Average, Specially-Name, FIFO Methods.
Drill down to transactions from reports, including transactions imported from sales or purchase subsystems.
Receivable
Receivable Subsystem manages customer information, sale and purchase transactions with customers, incurred and outstanding amounts with customers. Allow to assign receipt orders to invoices, link data to sales-cash-deposit subsystems.
Main functions

Create and manage customers without limitation of points of delivery with each customer.
Create new or edit old customers upon updating documents.
Update sales invoices and service bills.
Monitor details of receivables by customer.
Monitor receivables by invoice and due date of payment of each invoice.
Drill down to receivable and sales transactions on the general journal.
Payable
This subsystem manages all information of suppliers, updates supplier invoices, payment orders, debt adjustment, etc. With tools provided by this subsystem, you can determine the priority of payments, select the method, reduce risks in receivables from suppliers, monitor purchase orders, contracts, and their progress
Main functions

Create and manage supplier list, organize, arrange, and seek for suppliers conveniently and easily.
Update supplier invoices, summarize details of payments, make adjustments and offsetting of debts.
Allow one invoice linked to multiple payment orders, or one payment order linked to multiple invoices.
Manage due dates of payment and payment process of invoices.
Issue warnings of prioritized payments, due debts, etc.
Drill down to original transactions and relevant invoices/payment orders from general journal/debt record
Fixed Asset and Instrument & Tools
This subsystem is designed to manage fixed assets, compute depreciation, maintain asset rotation, change historical price, increase/decrease value of assets and instruments associated with assets, etc.
Fixed Asset Subsystem is relatively independent from the system. Common data is only relevant to general accounting, which declares accounts on general journal and moves monthly depreciation into the journal.
Assets
Monitor historical price, depreciation, residual value of fixed assets, capital resources, usage division, purpose of use, manufacture country, date of usage, etc.
Monitor increase/decrease of fixed assets and reasons thereto.
Monitor the changes in historical price and movement of usage division, construction work, expense or nature of the assessment, depreciation asset, and expense asset.
Compute depreciations, prepare depreciation distribution tables, and create entries to distribute depreciation to the general journal.
Tool
Update delivery note for instruments & tools with multiple distribution.
Automatically compute and distribute values into costs.
Monitor periods of distribution and period of use.
Monitor by usage division and report defective instruments and tools.
Historical Cost

This subsystem is designed to summarize costs by subject, distribute general costs, evaluate period-end products in progress, and compute historical costs of products. Manage prepaid expenses gradually distributed to production costs. The sub-system collects data mainly from operations in other sub-system, such as payment orders, payment notes, material delivery orders, finished product receipt orders.
Main functions
– Declare, monitor production processes, material consumption rates for each product.
– Manage and declare finished products for computation of historical costs. Automatically sync with stock finished products.
– Declare consumption rates, salary rates, production processes, production period for each finished product.
– Support multiple methods of automatically evaluating period-end in-progress products. Based on consumption rates and actual material volume, the program supports the user in computing the quantity of finished products in production.
– Carry over direct costs and distribute general costs to period-end. The program supports multiple formulas to compute factor of distributing costs at period end.
Human resources management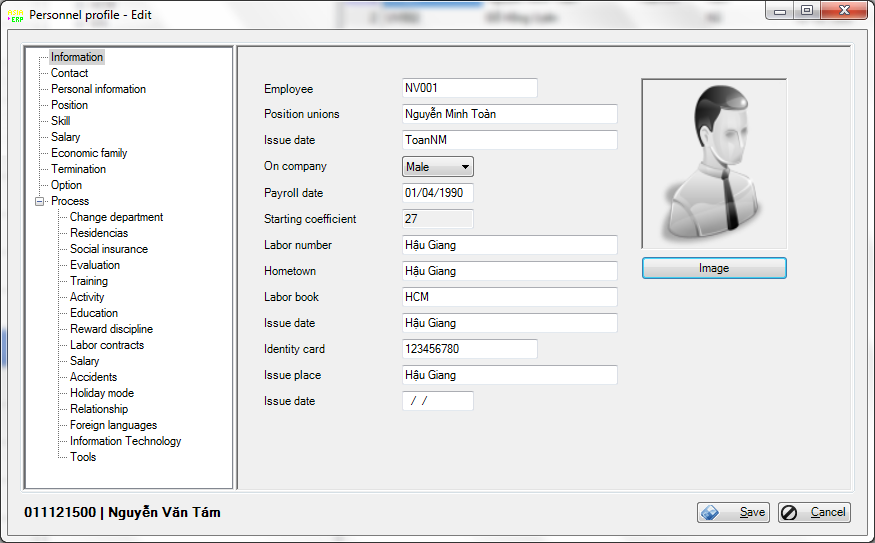 Asia HRM is a module within Asia Enterprise System, which can be installed independently or together with Asia Enterprise system. It can operate independently or link with the modules of general accounting and cost accounting, link with electronic timekeeping devices to retrieve data into the timesheet for payroll.
AsiaHRM is designed to manage the whole process of recruitment, training, employee evaluation, and work history of employees. It allows to manage the whole process of operation, position rotation, salary, social insurance, and many other issues of employees. It enables the storage, classification and management of the record of employees, both under and out of the company's employment.
o When conducting research on the needs of organizations on human resources management, it is evident that there are a lot of differences in the organizational structure and human resources management requirements, and the capabilities and requirements of users are very diverse. AsiaHRM is designed to be able to define all organizational structures. It allows the use of up to 30 free fields with many different data types. It is designed to fit different scales and organizational structure of enterprises, easy to use, consistent with various qualifications and requirements of users.
Detailed information on human resource records

Key information

The program contains key information of employee such as: Name, employee ID, Birthday, Hometown, Photo, ID, etc.

Contact information

Contact information of Employee such as email, phone numbers, fax number, etc. Users can declare unlimited kinds of contact information of employees

Skills

Management skills of employees/applicants, allowing filtering and search for skilled employees in line with the requirements of each job position.

Job positions

The information on the working departments, professional position, union position, payroll, number of employees, social insurance records and the health care provider.

Personal information

The personal information of employees such as bank account, credit cards, health status, management qualification, occupation, marital status, overseas living duration, operation history in the party, trade unions, public security and the military force.

Allowances

Declaration of allowances of employees for the payroll and calculation of social insurance.

Family economics

Management of information on wages, incomes, house and land ownership

Options

The program has defined in advance 30 free fields with many different data types so that users can choose to use for the specific requirements of the enterprise.

The structure and Framework of organization

Declaration of the structure and Framework of organization of the company is not limited to the size and the organizational layers. Users can declare multiple levels of management and organization in a company.

Process management

Department rotation

Keeping track of department/position rotations in the company

Residence

Keeping track of the residence of employees

Contribution of social Insurance

Keeping track of social insurance contributions, changes, increase or decrease.

Training

Management of short term and long term training courses inside or outside the company. The key information of the training management such as: Training content, training time, trainer, etc.

Learning

Management of the learning process, learning time, academic status and performance, and professional qualifications.

Operation

The working process, the companies that each employee have worked for, and their position in such companies.

Reward – Discipline

The rewards received and discipline suffered

Signing contract

The contracting process since the company's employment and the types of contracts signed. The contract management section show that the contracts signed by employees coming due, declaration of information and printing the labor contract from the program, then updating in the contracting process

Accidents

The accidents encountered, injury details, number of days off, the company's compensation and other treatment information

Family relationships

Management of relationships and family, workplace, address and occupation of each relative

Language proficiency

The languages and the corresponding proficiency

Computer proficiency

Computer proficiency and knowledge of each type of technology

Department rotation

Keeping track of department/position rotations in the company

Instrument – tools

The types of equipment and working tools provided by the company to employees

Prescribed leave

The times of each leave, vacations and other leave. The program allows to keep track of the vacations taken and holiday plans of employees

Evaluation

The employee evaluation function allows HR managers to create evaluation criteria or gather evaluation criteria for each group to assess employees in different position and various departments.
Salary management
Salary management is a sub module of AsiaHRM module. It can be installed independently or together with AsiaHRM in the AsiaERP system, which can operate independently or link with other modules.
The salary management sub-module allows the management of the entire salary process of employee and the salary funds of all departments in the company.
Some key functions:

Updating the daily timesheet in two forms: Direct input or connecting to the card swipe attendance machine.
Updating the product output/stages by employee.
Updating the product output/stages by department.
Updating sales by department: It can be made by direct input or connection with the sales module to retrieve data
Allocation of salary and bonus funds with adjustment for the departments.
Salary calculation with declaration or changing the formula for salary calculation on the payroll.
Report on salary funds, salary payments, pay slips, product output, etc.
Please contact the company's sales department for service:
Hanoi: 1900 63 65 85
Ho Chi Minh: 1900 63 66 89
Da Nang: 023 6222 9308