OVERVIEW OF THE SOLUTIONS
GOALS & OBJECTS
These solutions are made to manage activities of the enterprise in a unified, focused and inheritable process: From purchase and sales of tours – tickets – visa services; Management of receivable and payable debts; Management & sales analysis of services providing; Management of cost, fixed assets, instruments and tools etc. to Management of Human resources & Payroll calculation.
Target clients who may refer and use these solutions are companies doing business in the fields of tourism; visa service & ticket selling.
OPERATIONAL MODULES
The solutions system includes several modules, which can operate independently or can be connected together to automatically share information with others to create a centralized and unified management system.
System management
Sales management

Ticket selling management
Visa services management
Tours management

Finance – Accounting management

Cash & banking
Goods/services purchasing and payables
Services selling and receivables
Tour cost & price management
Inventories
Fixed assets, instruments and tools
Summary & financial statements, tax reports

Human resources management and payroll calculation

Human resources management
Payroll calculation
DATA MANAGEMENT AND CONNECTION
Data connection model among departments in the company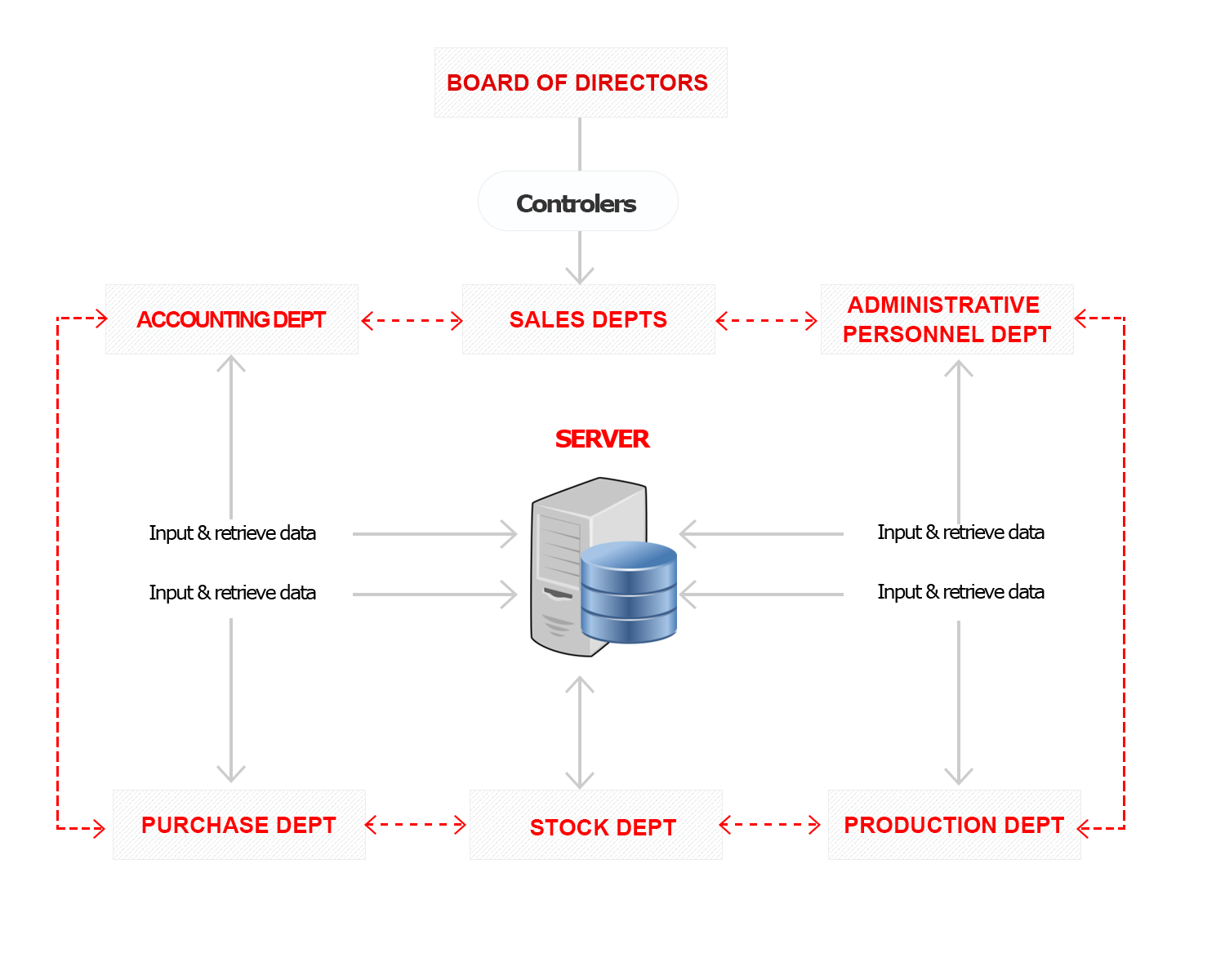 Working and online data management model of different subsidiaries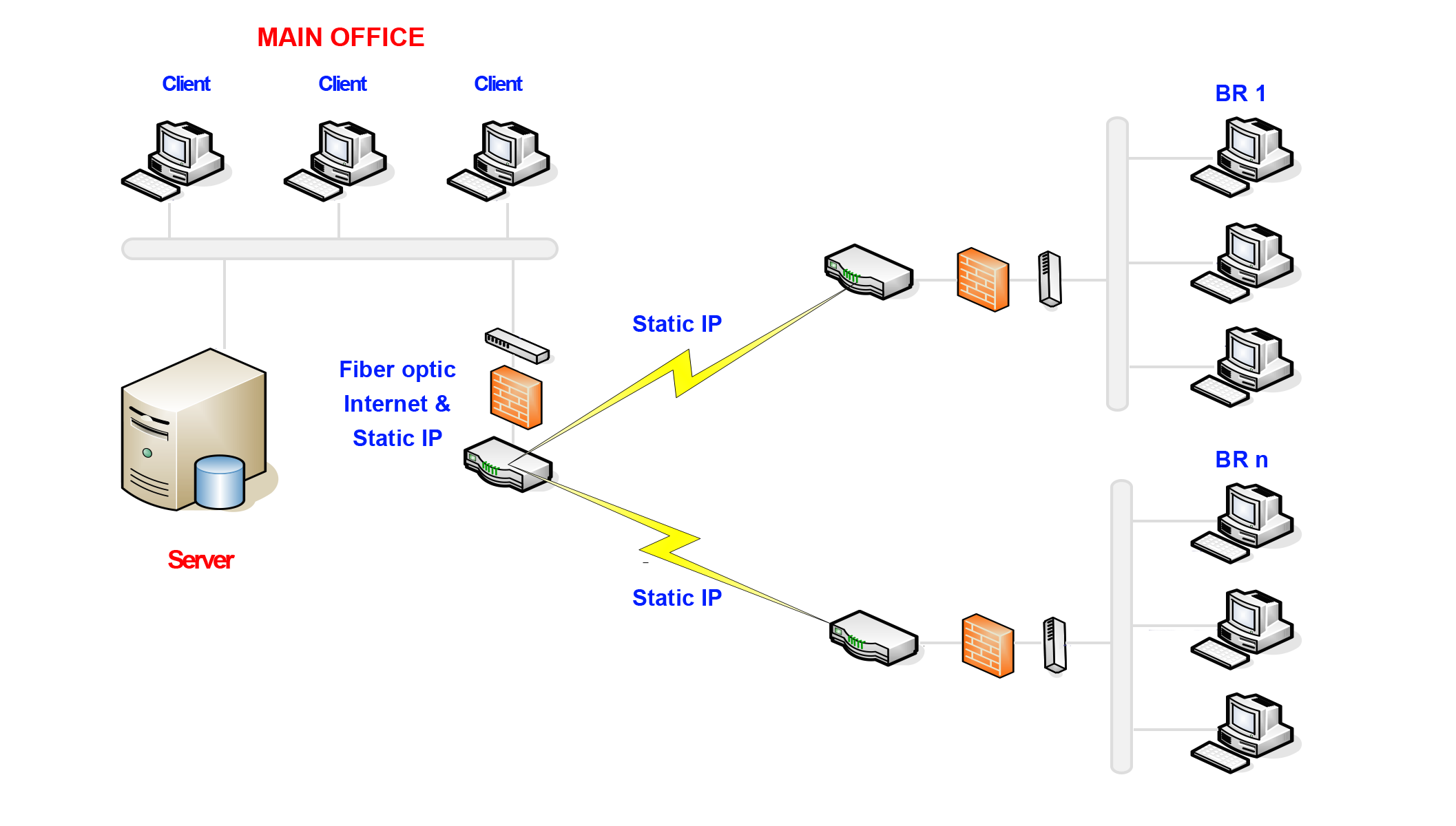 Accessing and viewing reports models from outside the office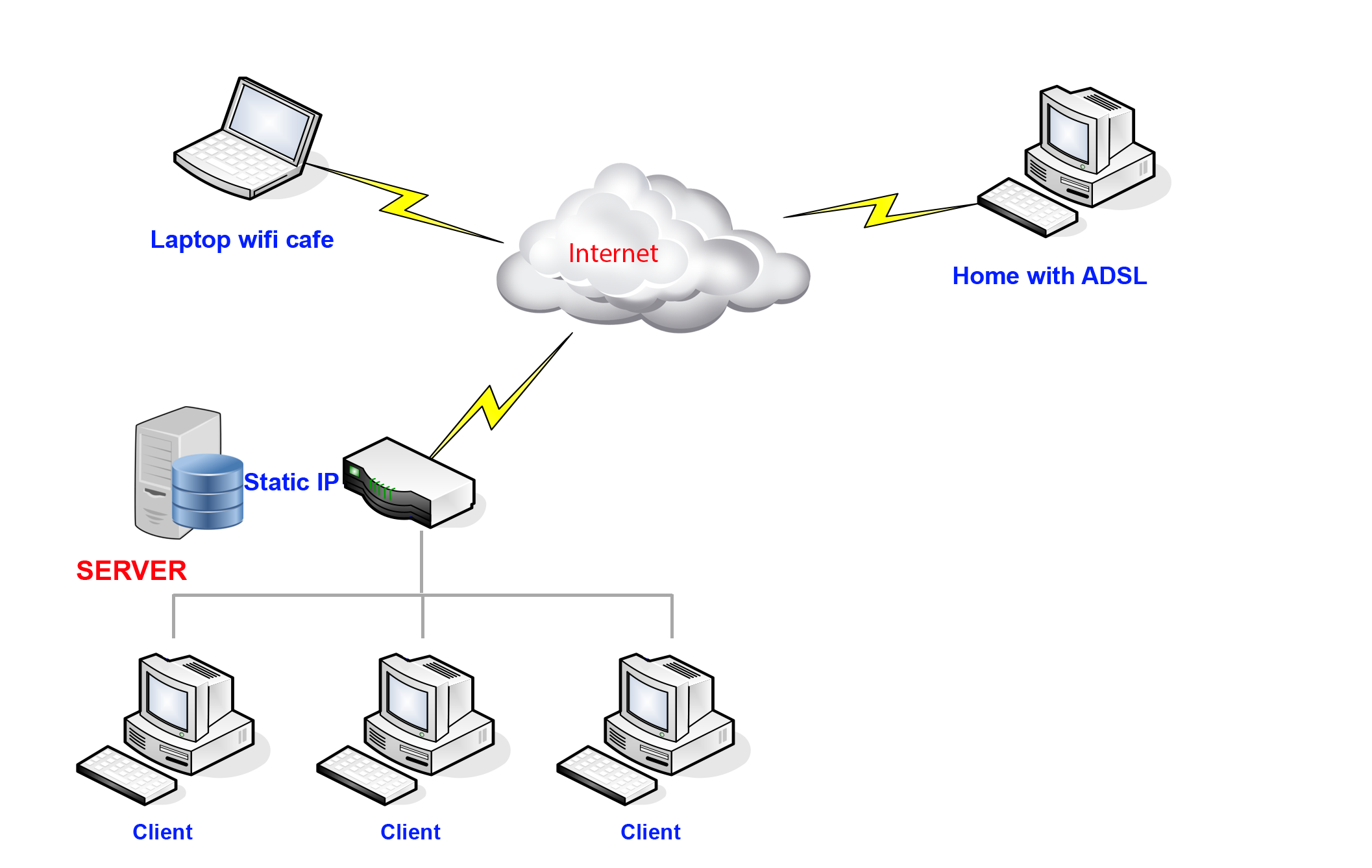 FEATURE DETAILS
SALES MANAGEMENT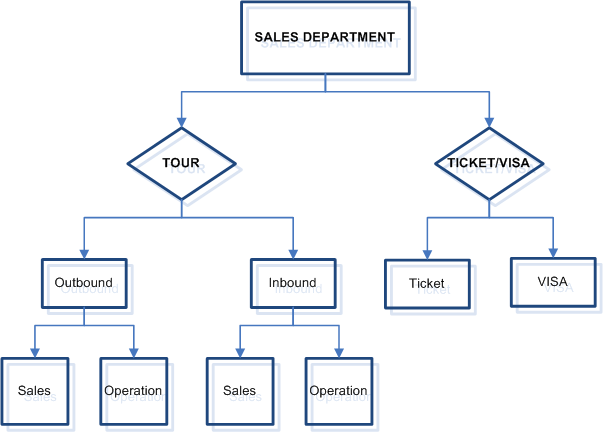 Departments have separated sales statistics, customer lists, and detailed permissions to each user.
All departments operate through the same software, but the information is confidential through decentralized functions.
TICKET AND VISA DEPARTMENT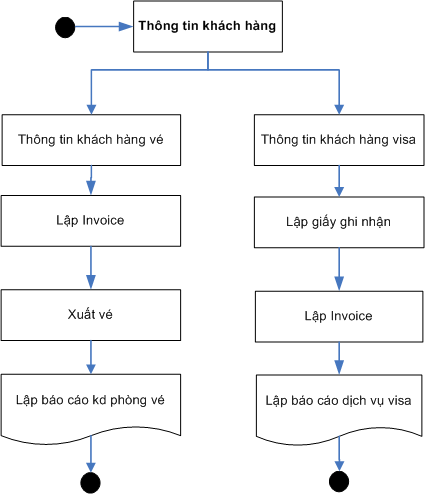 Ticket department:
The data input includes the following information: Customer information consists of:

Company name, phone number, tax code etc.
Flight details, airline, ticket number, price (net price/fee/ net price + fee) …

Customer information management, including: Information of ticket holder, invoice information, birthdays, airline member number, ID/ passport …
Invoice information include:

Customer information / forms of payment (cash, check, card, bank transfer) / flight / showing two currencies on the Invoice (USD, VND) / founder / date …

Managing tickets return/exchange
Expenditure tracking by invoice/ ticket / Customer Name
Pricing management by each invoice (net price/fee/ net price + fee)
Reports supporting ticket department management:

Reports on tickets for which invoices have not been made
Reports on the implementation of invoices
Detailed business reports on ticket sale of each airline (including capital / fees / commissions)
Synthesis reports on ticket selling (revenue / profit and loss)
Income reports by timeline: week / month / quarter / year
…
VISA department:
Inputting data (customer information, visa expire date, service date, price: net/sale)
Invoice making: Detail customer information (date of requesting passport services / date for returning the passport)
VISA department reports:

Reports on the implementation of visa by customer names (implemented/unimplemented)
Visa Expiration Date (whether it expired or not: from 'date' to 'date', single or multiple entry visa /visa symbols / entry date / name of entry gate)
Synthesis reports on visa by timeline: week / month / quarter / year
Reports on visa by location
…
TOUR DEPARTMENT
Outbound tours implementation process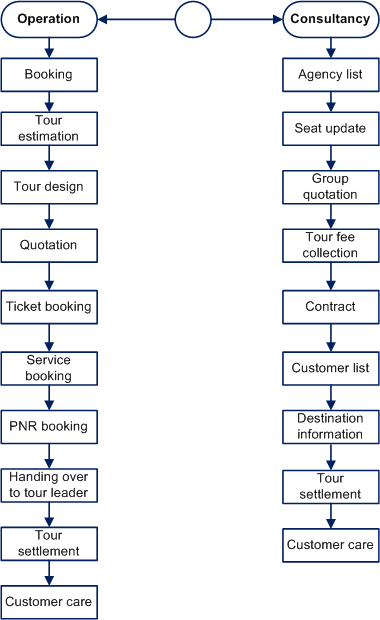 Customer information management:

Free Independent Travelers (FIT)
Group Inclusive Tour (GIT) (managing and caring group leaders)

Tour information management, including:
Tour numbers, tour names, departure date, end date, …
Each tour will include the tourist list. The information include: customer code, customer name, date of birth, gender, nationality, ID / passport, agent / FIT / GIT / corporation customers
Managing information of group/company representatives (basis for invoice issuance)
Managing the total number of tourists:
Making tour estimation

Making services list
Setting up entry screen of service fee for each tour

Quotation for consultancy services: Notifying about the due date of quotation sending à notifying in the form of reports.
Group quotation: Notifying about the due date of quotation sending à notifying in the form of reports.
Handling over to group leaders: Notifying about the due date of making settlements à notifying in the form of reports.
Booking:

Dividing by tours (e.g.: Taiwan, China, Singapore etc.)
Notifying about the deadline for depositing or tickets issuing à notifying in the form of reports.
When making a deposit, the system will switch to the "Deposit" page àreporting on the bookings which have been deposited.
If not making a deposit, the system will change the status to "Booking Cancelled" à the program will be discarded automatically.
When issuing a ticket, the system will switch to the "Ticket issuance" page à reporting on the bookings which have been issued.

Departure schedule & seats update: allowing seats exchange
Allowing file attachments of tour information and contracts (if necessary).
Report system:

Tour settlement reports
Business reports: by employees (based on tour settlements)
Reports on profit / loss according to tour details
General business reports by timeline like week / month / quarter / year
…
Inbound tours implementation process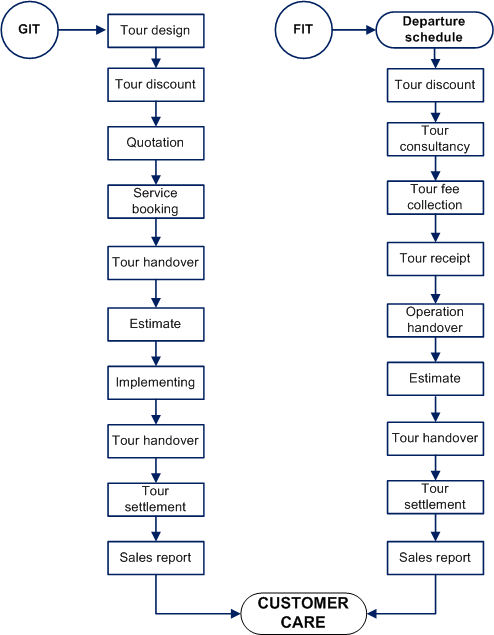 Customer information management function includes: FIT & GIT (managing and caring group leaders for GIT)
Tour information declaration function includes:
Tour numbers, tour names, departure date, end date, …
Each tour will include the tourist list. The information include: customer code, customer name, date of birth, gender, nationality, ID / passport, agent / FIT / GIT / corporation customers
Managing information of group/company representatives (basis for invoice issuing)
Managing the total number of tourists
Based on detailed tour information, the Tour Coordinator shall implement booking for services, including:

Hotels / restaurants / vehicles / trains (airplane) / entrance fees / tour guides / other services.

For booking vehicles: Ticket number / date / tour code / departure date / route / vehicle type / price / notes (prices can change in the process of implementing the tour) / vehicle plate / driver / tour guides / flight information …
For booking hotels: Ticket number / date / tour code / check in date / check out date / room type / room name / price / notes …
For food vouchers: Information including menus will be inputted manually

Tour estimation includes: tour information, cost estimates, revenue estimates

Calculating profit / loss based on the above information
Each estimate will be made into two copies: One for accountant, one for tour guides
The one for tour guides will show only necessary information for tour guides. Information such as revenue, profit / loss will not be shown.

When the tour finished, employees must have a list of payments and input those data into the software
Prepare the payment confirmation slip and send to the accountant
Handing over to tour guides: Programs, lists, estimates, customer reviews, comments of tour guides, confirmation of the handover, welcome board…
Tour settlement: Display the tour estimates to adjust into tour settlements
Report system:

Business reports: by employee (based on the final settlement tour)
Reports on profit / loss according to tour details
General business reports by timeline like week / month / quarter / year
…
FINANCIAL – ACCOUNTING MANAGEMENT
Features of the financial – accounting management modules are basically similar to those described in the Asia Enterprise version
HUMAN RESOURCES MANAGEMENT AND PAYROLL
According to characteristics of each business
Please contact the company's sales department for advice:
Hanoi: 1900 63 65 85
Ho Chi Minh: 1900 63 66 89
Da Nang:023 6222 9308