17 May, 2018
Learn about ERP, a versatile business management software solution used in businesses
What is ERP?
Before we start, I want to talk about the history of ERP a little bit. The word first appeared in 1990 when Gartner Corporation used it to extend to MRP (Manufacturing Resources Planning), which is also a management software but focused on the production of goods. By the mid-1990s, ERP was being applied to most areas of a business, not just for the production side. Government agencies and NGOs are also starting to adopt ERP. Around 2000, the term "ERP II" appeared and was used to refer to ERP software that was able to use a web interface to access and use. ERP II allows not only the company itself but also customers and supply chain partners to view the information. In other words, this new generation of ERP supports collaboration between companies, not just internal management.
Usually in businesses, each department will use a different type of software. When using individual apps as in the traditional way, it is very difficult to connect data together, especially when the volume of data is large or the software is not compatible with each other, so the coordination between many parts of a project is very difficult. company becomes difficult, expensive, time consuming. ERP, on the other hand, brings all of this together and uses only a single database so that everyone, every department can access and share data with each other.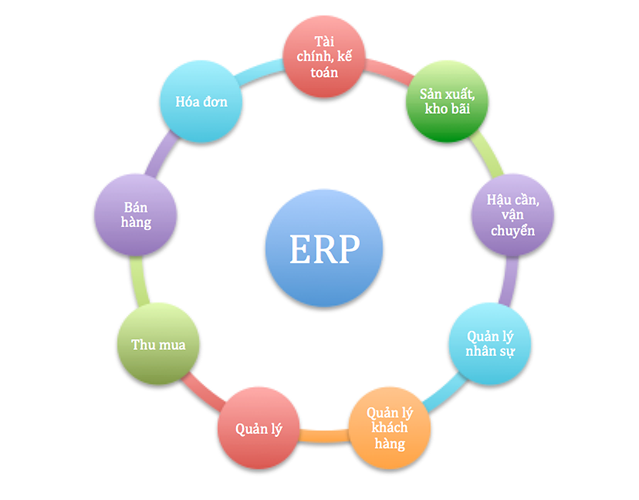 Let's take an example when a customer orders a laptop. Normally, when that person starts an order, the order will be delivered from that person's mailbox to the company. After that, the data entry staff will transfer the order content (quantity, items, price, shipping cost, CPU configuration, RAM, HDD …) to the company's computer system, forwarded through for the customer management department to record information about the orderer, then transfer to the warehouse, then accounting, etc. Processes like this cause delays in delivery to the buyer, not to mention the loss of the order. goods again. Having to import data from one software to another can also cause errors, especially for companies operating in multiple geographies.
At the same time, no one in the company really knows the status of that order because there is not enough access to all the software. A person who works in finance or supports customers how to access the software of the warehouse to know if the goods have been delivered or not, if the warehouse is located in the title of Binh Duong while the employee is in Ho Chi Minh City. What about Ho Chi Minh City? That is also the reason that many times when you call to ask if your item has been delivered, the receptionist has to forward you to the warehouse, and then you have to repeat your entire query request, which is very expensive. time.
ERP appeared with the purpose of replacing all these single systems, and the company only used a single software to manage. Of course, ERP will be broken down into packages depending on the purpose, such as financial packages, personnel packages, warehousing packages, etc., but the basic problem is that the data is in the same place, not distributed in different places. a little here, a little there. All employees when needed (and of course when they have enough authority) can see the information they want, and more importantly, the director sitting at the top can still grasp the situation of his business in a timely manner. quickly without having to wait for dozens of reports from many departments to submit for a long time. A company can only buy a certain number of packages according to their capabilities and needs, not having to buy the whole set (because they probably don't need it), but in the 90s, ERP was a "branch". "It was so big that the company had to buy the whole set which was very expensive.
In addition, the ERP system will be customized according to the needs of each company because each business will have different requirements and different processes. And not only the packages can be customized, but each form, each toolbar, button positions, data filling areas… can also be fine-tuned for the best fit. In other words, ERP possesses extremely high flexibility, and this is also the main job of companies implementing ERP to their customers.
Video briefly describes the operation of ERP
How can ERP help companies?
The biggest hope for ERP is that it can improve order processing as well as things related to revenue, profit, invoicing, etc. These are what are called "fulfillment processes", and also for this reason that ERP is often called a "backup software" for the office. In the past 10 years, there have been a number of modules for customer management, but before that, ERP only focused on automating different steps in the operations of the manufacturing company.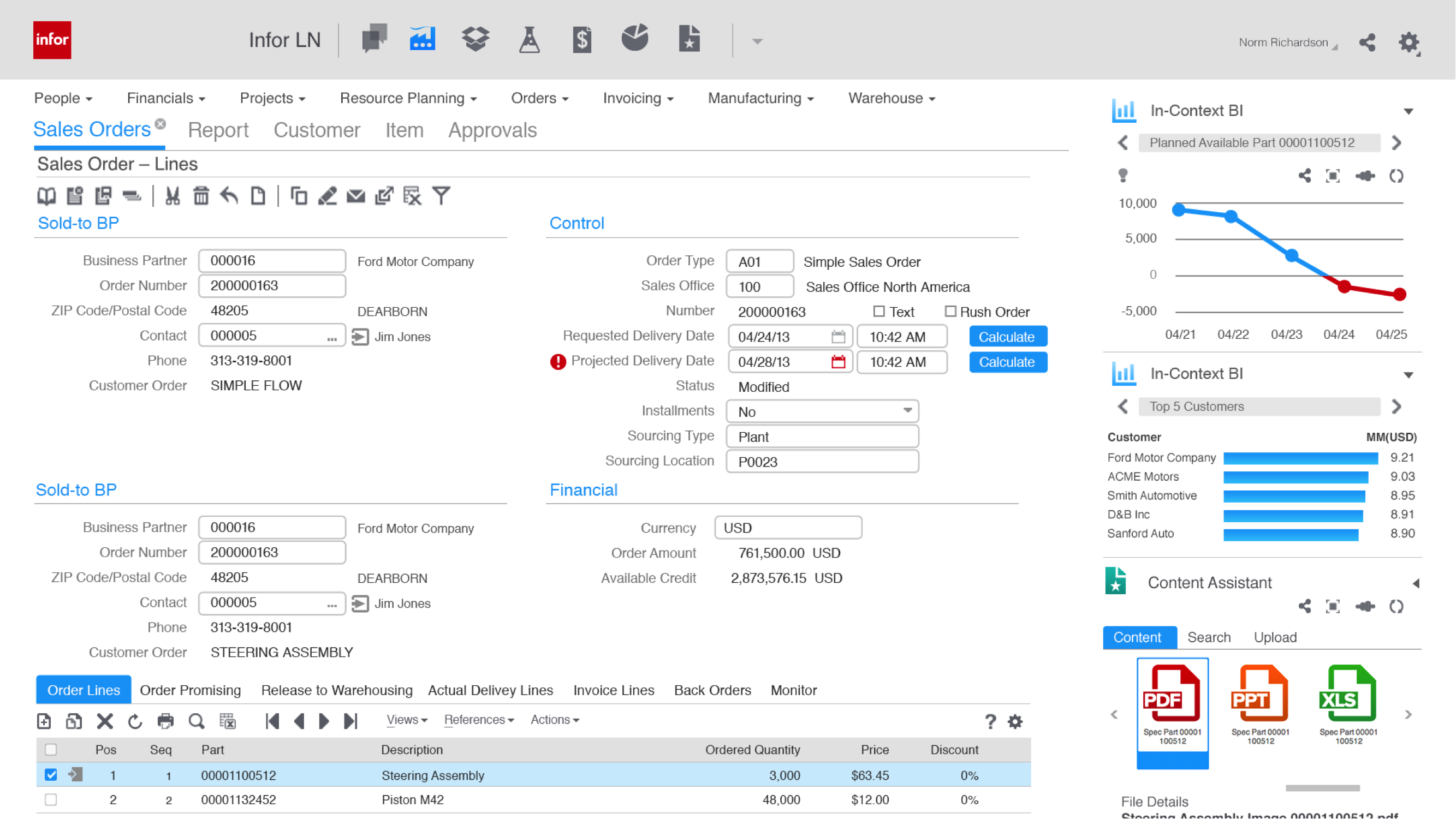 When an employee enters the order information, he will have all the information needed to complete the order. In addition, all other relevant employees can update information and can track the progress of an order at any time. ERP brings a "magic" to help customers get what they buy faster because information is less delayed, there are fewer errors, and that "magic" also applies to other activities such as payroll for employees. or create financial statements.
In short, there are several ways that ERP can help companies as follows:
Control customer information: As mentioned above, because the data is in one place, now all employees in the company can access and view customer information, some people with the right can change both information without fear of customer records not being updated across different departments. Even a CEO can easily see who is buying what, where and for how much.
Speed ​​up the production process, provide goods and services: ERP can serve as a tool to help automate part or all of the production process, from the preparation of raw materials to the finished product. , input and output management, packaging and more. By using only one computer system, the company can save time, reduce costs, increase productivity and reduce the amount of personnel required. Managers can view all company metrics in one unified interface, without having to jump from area to area just to get a few numbers. I know an ERP conference for manufacturing businesses is coming up on March 26, if interested quanyou can click this link to register and view more information.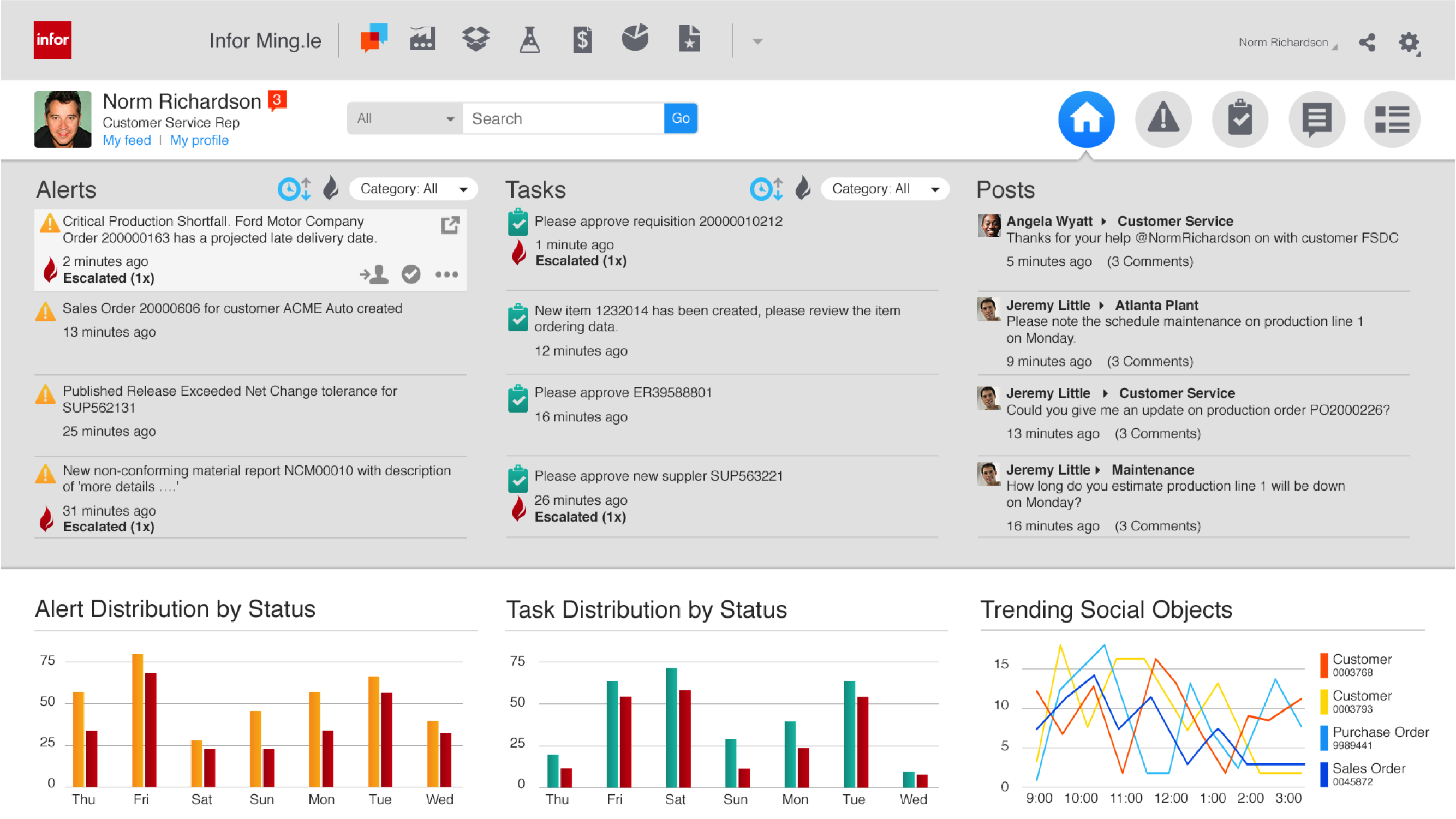 Quality control, project management: ERP helps businesses check and track the consistency in product quality, and plan and allocate human resources appropriately depending on project needs. I know that ERP can also automatically check in the database to see which employees have which strengths and then assign them to each project task, the manager does not have to spend much time on this stage. .
Control financial information: to understand how the company's performance is, managers will have to learn data from many different departments, sometimes some are right, some are wrong, some are standard. hey, some are by different standards. ERP aggregates everything related to finance in one place and only one version of the data, limiting negative as well as misjudgments of managers about the performance of the business. ERP can also help create financial statements according to international standards such as IFRS, GAAP, even according to Vietnamese Accounting standards (TRG International company in Vietnam is also editing the software suite. Infor ERP LN according to Vietnamese standards)
Inventory control: ERP helps to control how much stock is left, where the goods are located, how much or how little materials are left. This helps companies reduce the materials they keep in their warehouses, only adding more when necessary (the word Planning in ERP means helping businesses plan their activities, and this is an example. example). All will help reduce costs, reduce the number of people needed, and increase the speed of work.
Standardize human resource activities: thanks to ERP, the HR side can keep a close eye on working hours, leaving hours, and how much work each employee has done (to calculate salary and these benefits). other), even if those employees work in different departments, in many different geographical areas. Employees are also happier because with ERP, the company can pay them more on time.
Communicating, socializing communication in the company: You do not think that the corporate environment does not need social networks, in fact, it is, and it is very useful in communication between employees across departments. . I know there is a platform called Ming.le that allows people in an ERP system to chat with each other in real time to query information, just like when you chat on Facebook. The manager can quickly chat with the storekeeper to ask how many items are left in item X, the storekeeper can check the results right in the web-based interface and then tell the director immediately. Not to mention that ERP also possesses the ability to display the tasks that a person needs to do, see status updates from roommates, …
The above are just some typical applications, but in fact, ERP also has a very wide application potential that I cannot list all of them here.
Types of ERP
Currently, many companies are applying ERP in their work. Take Mobile World, for example. In an interview in 2009, the company shared that it built its own ERP with many functions, from administration and human resources to product management and warranty.
If not using homegrown solutions like TDGD, companies can look for pre-built solutions and then customize them according to their needs (or hire a third-party company depending on their needs). Out). We can mention some famous ERP software such as SAP ERP, Infor ERP LN, Oracle E-Business Suite. These are 3 "famous" ERP names and their software suites are aimed at medium and large companies. I know that Boeing uses Infor ERP LN and thanks to this system, they can successfully manufacture and sell the 787 Dreamliner. Infor also has more than 4500 customers, from mid-range companies to TOP500.
Smaller businesses can use Microsoft's Dynamics ERP, IBM's ERP, and a number of other brands. Some Vietnamese software companies also sell ERP to outside companies. However, the above solutions require spending a lot of money, ranging from a few tens of thousands to millions of dollars. Therefore, if small companies or shops want to use ERP, they can use free open source ERPs online, such as Adaxa, ERP5, JFire, OpenERP, WebERP… Of course, customization is appropriate. With business needs, it will be very difficult if businesses do not have enough professional knowledge.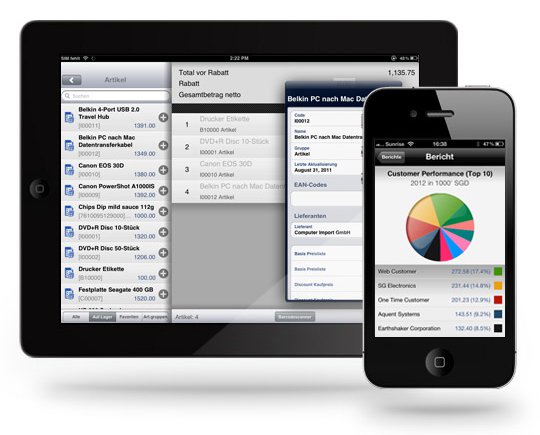 In addition to software installed on PCs and web platforms, ERP companies also make mobile versions of their applications. SAP, Infor ERP LN and a number of other large companies all provide applications that help company employees review information anytime, anywhere, even when they are on the street and do not carry a laptop with them. You only need a smartphone to be able to understand the activities of your company or store.
Regarding the process of bringing ERP into the company, companies such as Microsoft, SAP, Infor also have representatives to sell, deploy and customize software depending on the needs of customers. However, that is only a very small part, and most companies will join hands with partners (who are third-party companies) to sell, refine ERP as well as integrate ERP into the daily operation of the business. Karma. The time to implement ERP can take only a few months, but sometimes up to a year.
Drawbacks of ERP
Let's go back to the individual software of each part as mentioned above. This sporadic process of using lots of software may not be efficient, but it is simple. The app for the financial side takes care of the finances, the app for the HR side takes care of the personnel, what troubles happen outside the software is not the department's problem, it is someone else's trouble . With ERP, this is no longer the case. A data entry worker does not simply type information and then press Enter anymore. This person will see relevant information about the customer, such as whether he or she has paid for something they recently purchased, what is his or her credit rating, what items he or she has purchased in the past. what, and they will probably have to update this information. Warehousing parties also have to update information on the Internet (or intranet) regularly, not just working with papers as before. If they don't, the screen on the customer contact side will show that there's nothing in stock that the customer wants, thus missing the opportunity to make money.
In addition, people often do not like change, while ERP requires them to change their way of working to adapt to the new system. This is also one of the reasons why ERP projects fail in integration and practical application, but rarely fail due to lack of money or other financial problems. In fact, changing the software is not as important as the employees in the company changing themselves to take advantage of the software. ERP helps companies save a lot of money compared to doing the work manually, but if you simply install the software and let it go and refuse to change the way it works, you are just wasting your money. money only. Alternatively, you may also be slowing people down, because you're replacing software that everyone is used to with a system that no one will (or can't) use.
I also learned one more limitation about ERP when talking to an expert, also about people. Because ERP is transparent, everything is managed by the system, corruption is very unlikely, and this is why some individuals in the company refuse to use the new software. Bringing ERP can help businesses and customers, but make these employees lose their "outside income". This is also something that companies are very worried about because it leads to the failure of the ERP integration project.
And yet, ERP also has certain limitations even with its own modules. There are some companies that only use ERP but cannot meet all their needs, so they use one or more other software (eg accounting software) to ensure smooth operation. tru. At that time, the biggest problem is how to make ERP integrate well with these external solutions, from data exchange to workflow. Of course, this is not easy.
In addition, one reason why ERP often fails when implementing despite the business has spent a lot of money, is that the leaders are not familiar with the system. They only know their needs clearly, and direct down to the IT side to implement. The IT side is not clear about the business process as well as the business requirements, so it has problems when implementing. This concern must be resolved, then ERP will really bring benefits as it is.